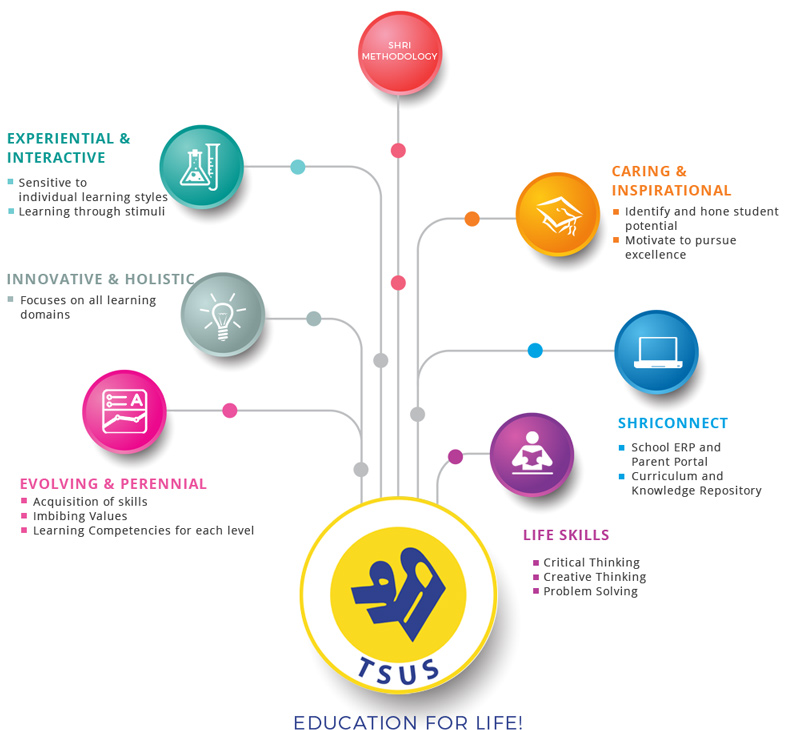 The Shri Ram Universal School  is modelled on the best teaching practices, methodology and value system of the leading Shri Ram Schools in Delhi & Gurgaon, through its collaboration with Shri Educare.
TSUS is committed to imparting a child centric education where children will be given ample opportunities to balance academics with their co – curricular pursuits.Our aim is to provide a nurturing, vibrant, innovative and caring environment that is committed to all-round excellence and offering skillful supported instruction as per the individual child's need. The teaching learning process will encourage students to think rather than learn by rote.
The Shri ethos inculcates in children the confidence to be what they desire and give them the freedom to-
Achieving his/her "Personal Best" and working towards "Bettering their Best."
Collaborate in groups and work together on projects which are completed in school under the supervision of the Shri Shikshak.
Be enthusiastic about research that will make them independent learners.
Learn through the BaLA method which is intrinsic to the innovative school infrastructure.
Experiment with ideas related to scientific principles to understand the world surrounding them.
Learn through role play to fulfil their creative sensibilities.
Participate in 'Theatre In Education' processes and learn through a multidisciplinary approach.